Description
Make:
Tad Coffin
Model:
Tad Coffin 2 Smart Ride
Type:
Close Contact Saddle
Condition:
 Very Good Used Condition
Seat:
17.5ins
Width:
Medium Wide
Flap Length:                     
13.25ins
Material:
 Leather
Stamp:
 #TC2 3336 7572X 0212 SMART RIDE USA
Blemishes:
Normal, signs of wear with minimal dings and scratches, as shown
Fittings:
Cover, Original Box and Original Paperwork
Trial:
 This Saddle is Eligible for a

FREE 5-DAY SADDLE TRIAL.

 Click this link to order your saddle trial today!
*All measurements provided have either been taken directly from saddle stamps, or are approximate measurements taken by experienced Good Apple Equine Consignment staff.  This information is provided as a courtesy to our customers, and is not a guarantee of size or fit as each individual saddle differs from the next (including those of the same brand and model).
This lovely Tad Coffin 2 Smart Ride close contact saddle is stuffed with great technological features – see below.  This particular saddle was made in 2012 and has been meticulously looked after by its original owner.  All stitching, parts and the tree are all sound and is ready for its next loving owner.  It has a 17.5ins seat, has not been altered as far as we know and even comes with its original box and paperwork.  (Please note:  you will notice some white 'bloom' on the billet straps.  This is just the leather's fat content, and protects the leather).
The TC2 is designed for riders looking for a secure, balanced ride with a deeper seat and a narrower feel.  Featuring SmartRide Rx technology,  this saddle is ideal for horses with higher withers and narrower backs but can be used successfully on wider horses with minimal padding.
What is Rx Technology?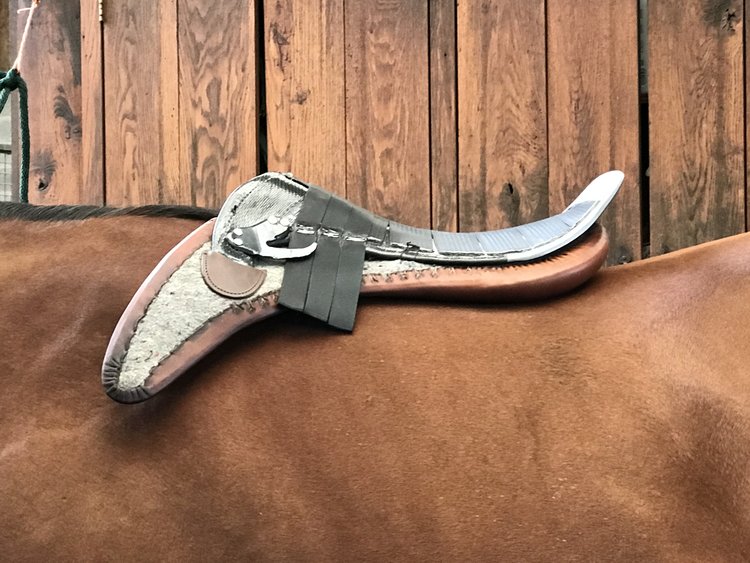 The Tree: (pic A)
A thermoformed acrylic alloy with unique geometric features, reinforced and tuned with an array of carbon fibers with over 24 axes of flexion.
The Panels: (pic B)
Featuring laminations of multiple materials, ergonomically tooled for a highly complex flex modulus.
The Result: (pic C)
The accommodation of the horse's back in motion with an electromagnetic response.